← Back to Gardening Tips
THE Fertilizer Guide
Get your garden blooming with Nurseryland's Fertilizers! This range of Canadian-made products ensures that you'll find something ideal for every type of plant, from bone meal to vegetable and flower food. Get the most out of your garden with Nurseryland Fertilizers and watch your plants flourish!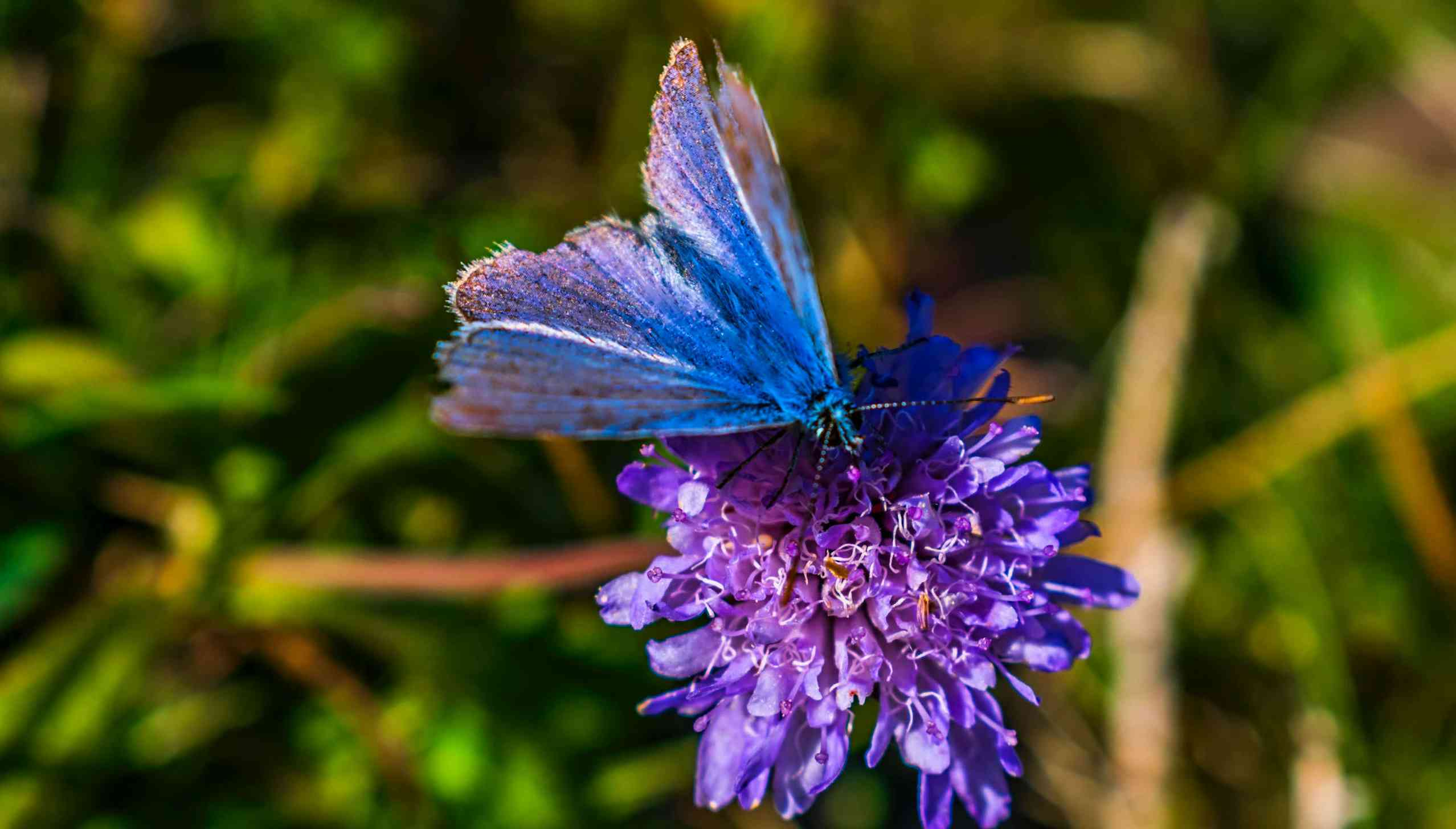 Strong roots and vigorous growth
Bone Meal 2-13-0
Bone Meal is an organic fertilizer that's been used for centuries for a good reason: it's super effective. It helps plants grow strong roots and provides nutrients all season long. Plus, it's great for transplanting because it reduces shock. You can add it to your soil or planting hole without worrying about it hurting your plants.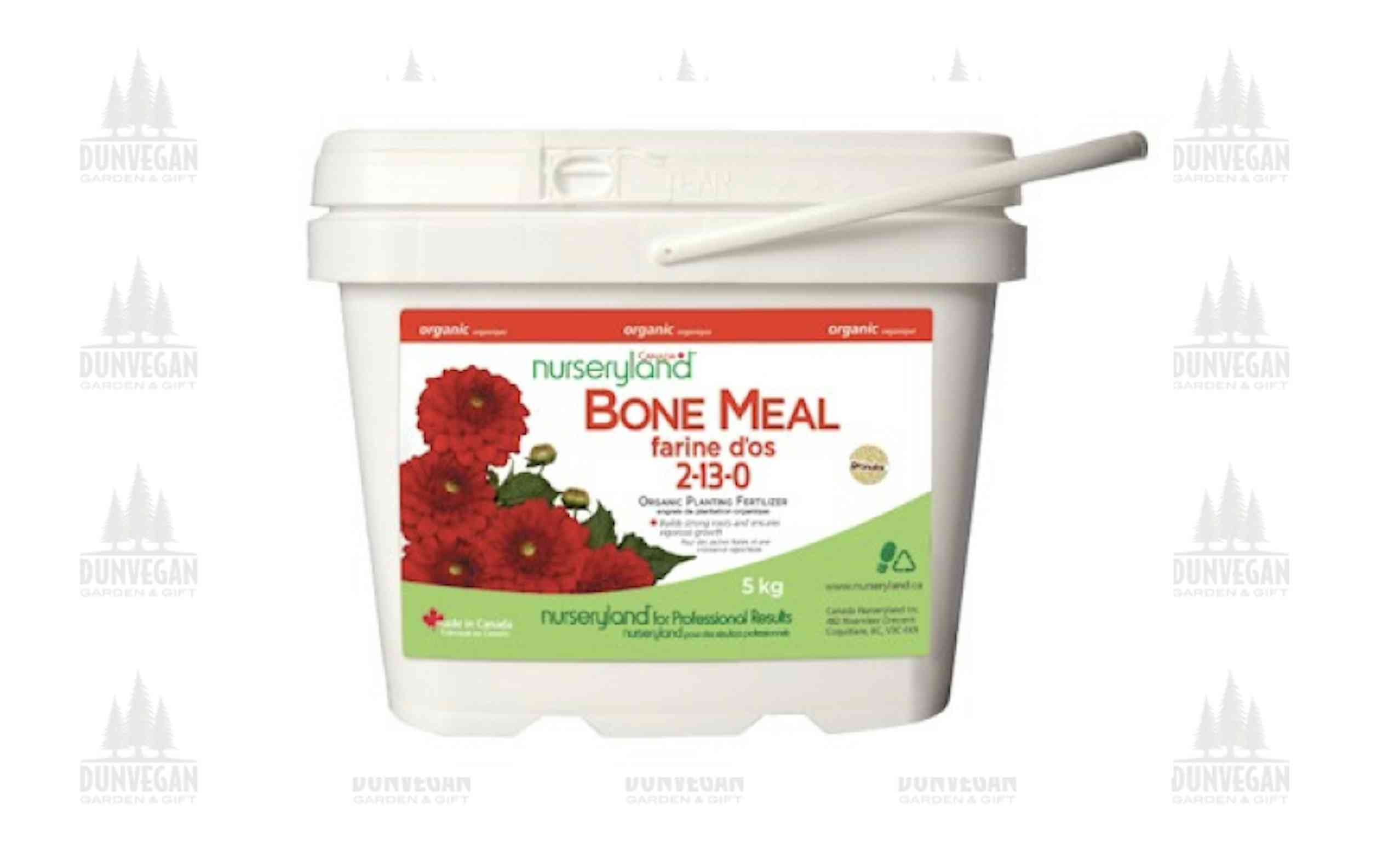 Reduce transplant shock for annuals, perennials, vegetables, trees and shrubs
Transplanter 5-15-5
Transplanter is a plant food that helps roots grow quickly and effectively, which is crucial when plants are moved or damaged. Whether you're planting new seedlings or trying to revive an existing plant, Transplanter can help reduce transplant shock and combat stress caused by pests, weather, or other factors. Simply mix it with water and use it to water your plants once a week until you start seeing growth.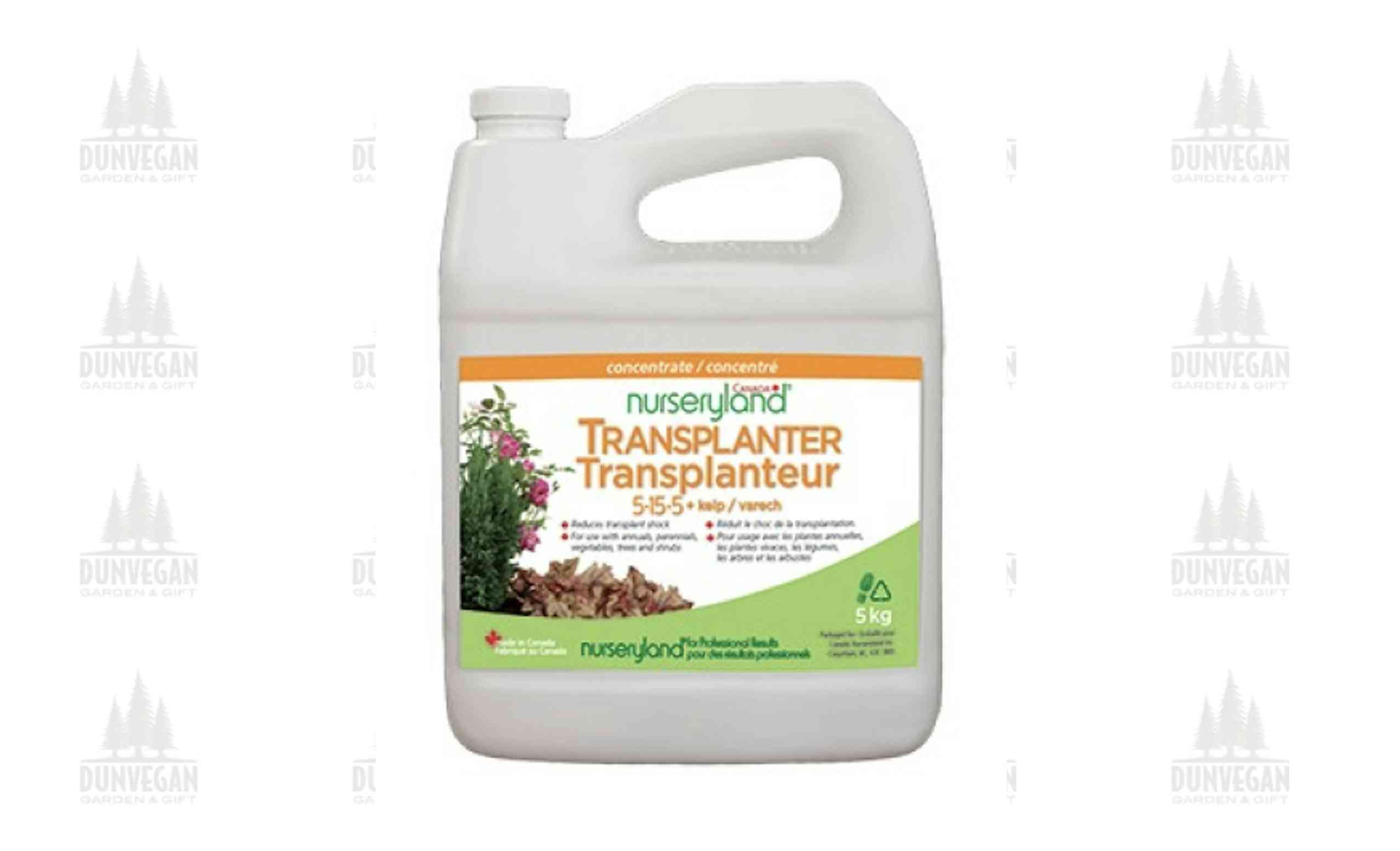 Vigorous fruit & berry plant growth
Fruit & Berry Food 7-12-18
With five key micro-nutrients and a slow-release formula, this fertilizer feeds your plants for up to three months. For the best results, apply three times a year - in March/April, May/June, and September - to ensure sustained growth, high bloom count, and strong, well-developed fruit.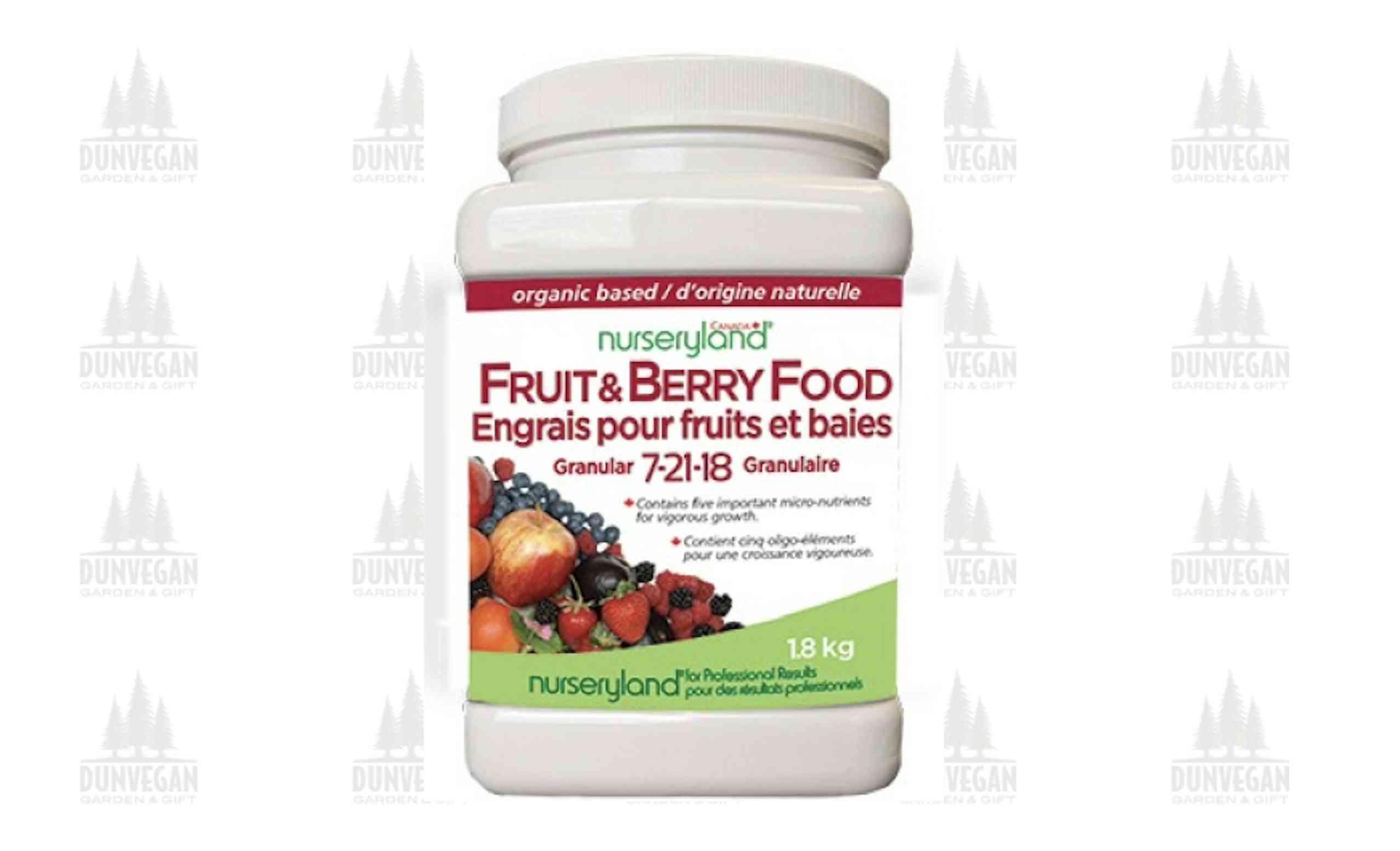 A balanced diet for vegetables, flowers, and gardens
Vegetable, Flower, & Garden 12-16-12
This all-purpose fertilizer that provides a balanced and organic-based diet for your garden. Designed to reduce waste and work for all types of plants - from veggies to flowers, trees, and shrubs - this powerful formula is a professional-quality fertilizer that you can count on. Simply sprinkle it around your new or existing plants every 6-8 weeks during the growing season to give them a big punch of nutrients and help them thrive.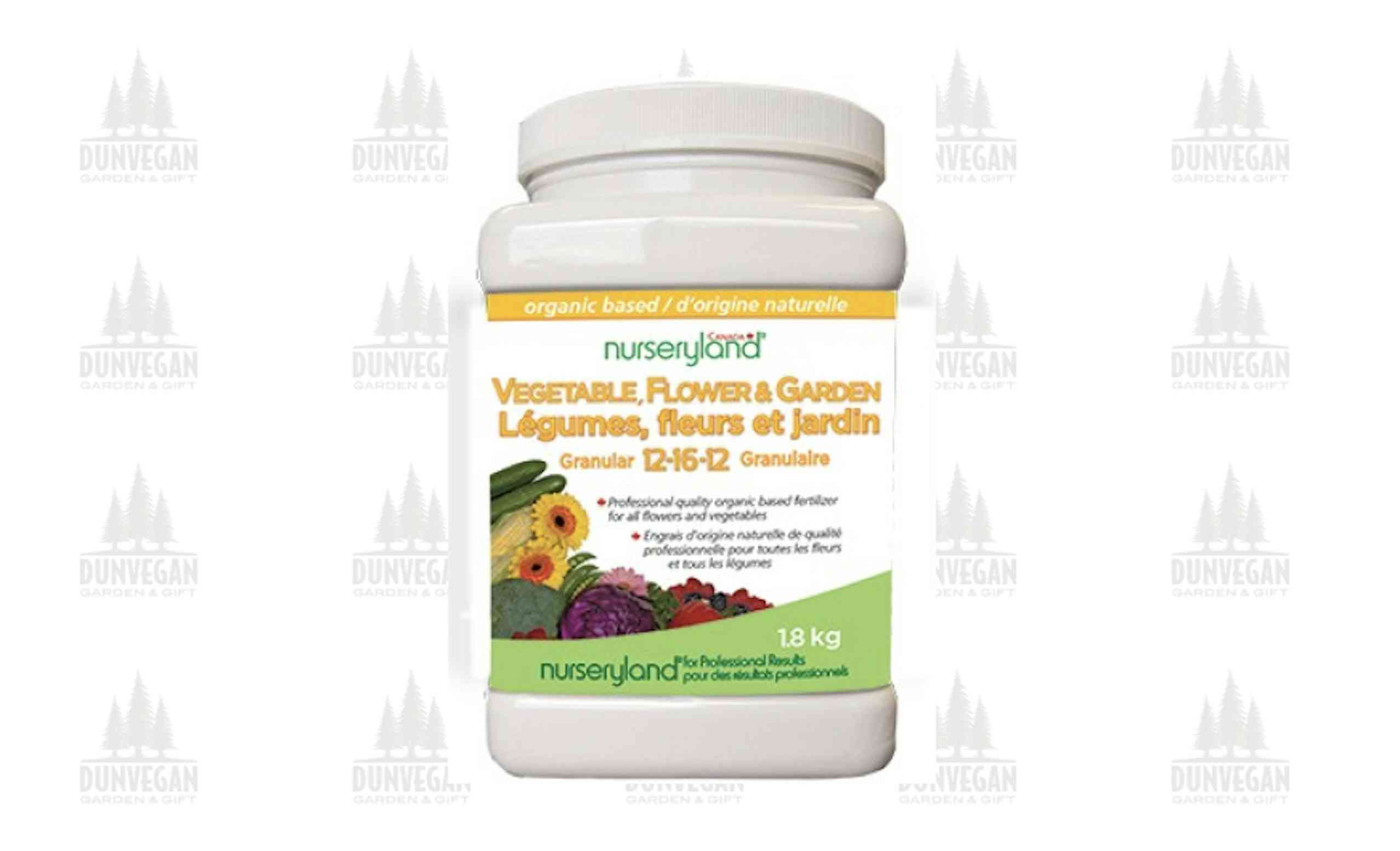 Healthy tomato plants and high yields
Tomato Food - Liquid 9-11-11 or Granular 5-10-5
This product is the perfect way to give your plants the nutrients they need to grow healthy and produce high yields. With a special N-P-K formula designed specifically for tomato growers, this fertilizer also includes calcium, which sets it apart from other fertilizers and helps your tomatoes grow big and strong. Thanks to its slow-release format, your plants will get a little bit of nutrition every time you water them, ensuring they have everything they need to produce abundant and fully-formed fruit.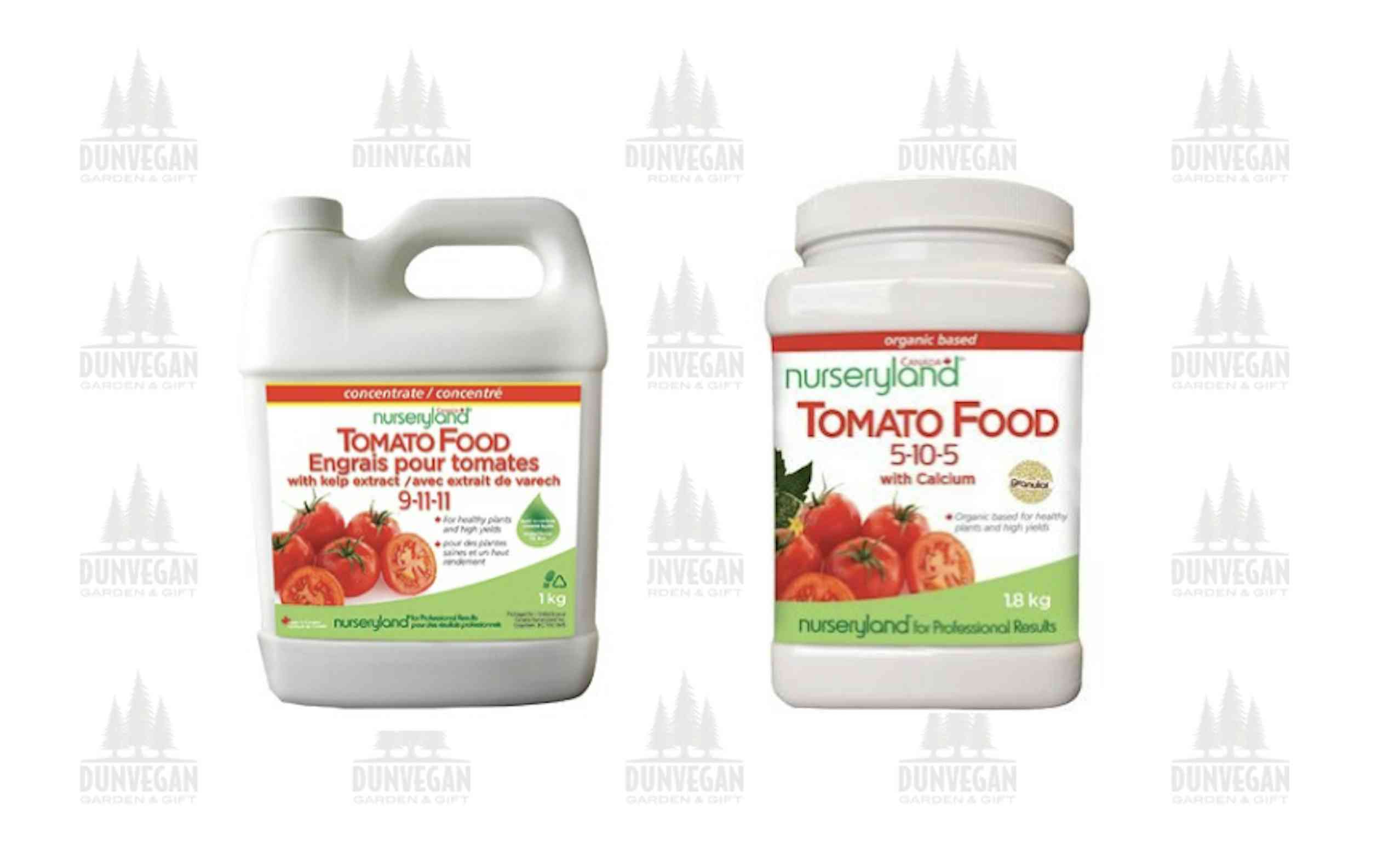 Supercharged hanging baskets, window boxes, and containered plants
Container Food 16-10-10
If you have hanging baskets, window boxes, or other container gardens, you'll love this easy and effective fertilizer! It's very slow-release, which means it provides your plants with the nutrition they need every time you water them, for up to six months. Whether you have indoor plants or outdoor containers, this fertilizer is perfect for giving your plants a boost and helping them grow strong and healthy.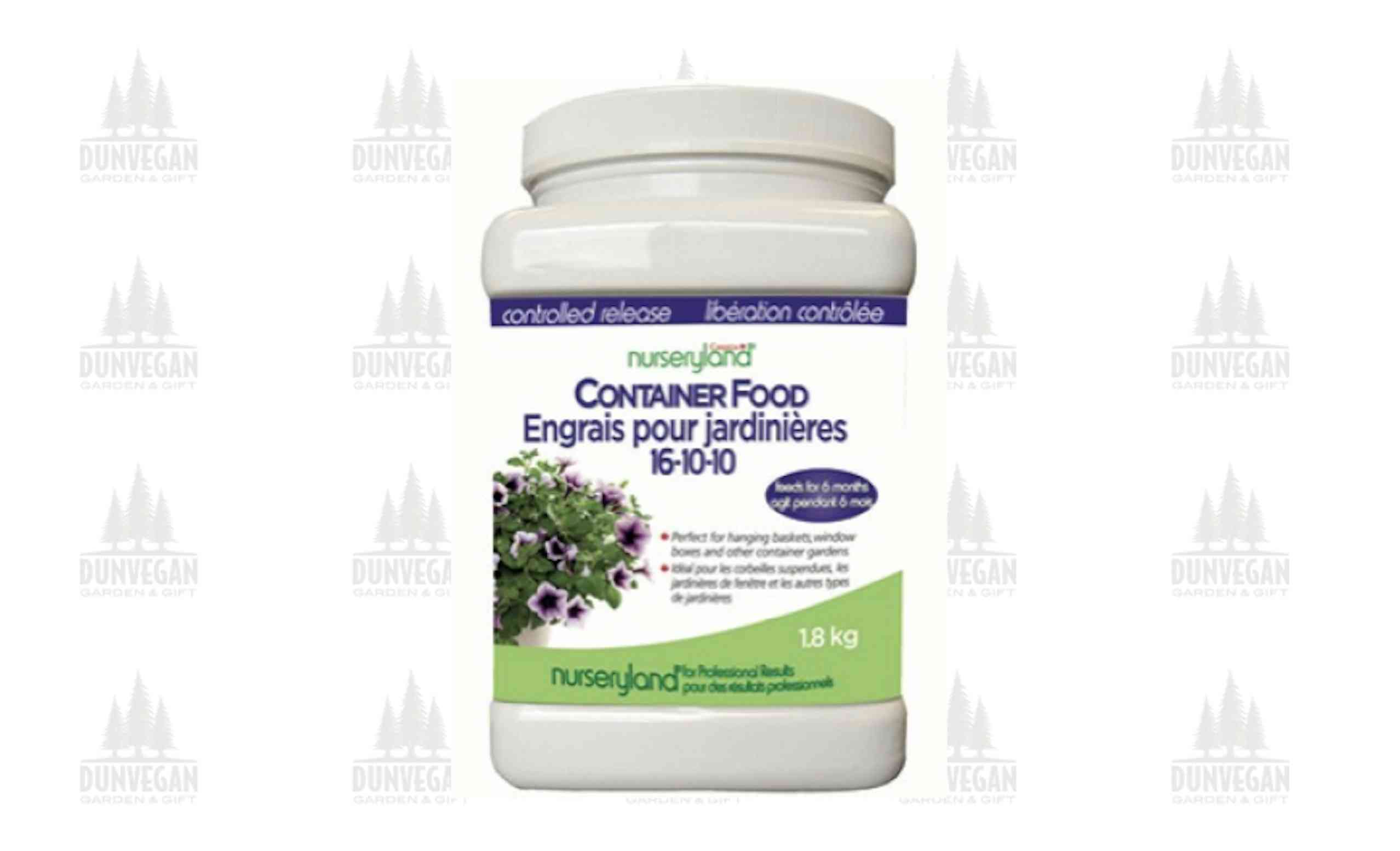 Fast acting nutrition for all types of plants
All Purpose Plant Food 20-20-20
This powerful fertilizer is perfect for giving your potted plants, gardens, trees, grass, and ornamental shrubs the nutrition they need to grow strong and healthy. With a complete and fast-acting formula, it provides vigorous growth for all types of plants, both indoor and outdoor. Simply mix it with water and apply it to your plants to promote healthy growth and give them the balanced diet they need to thrive.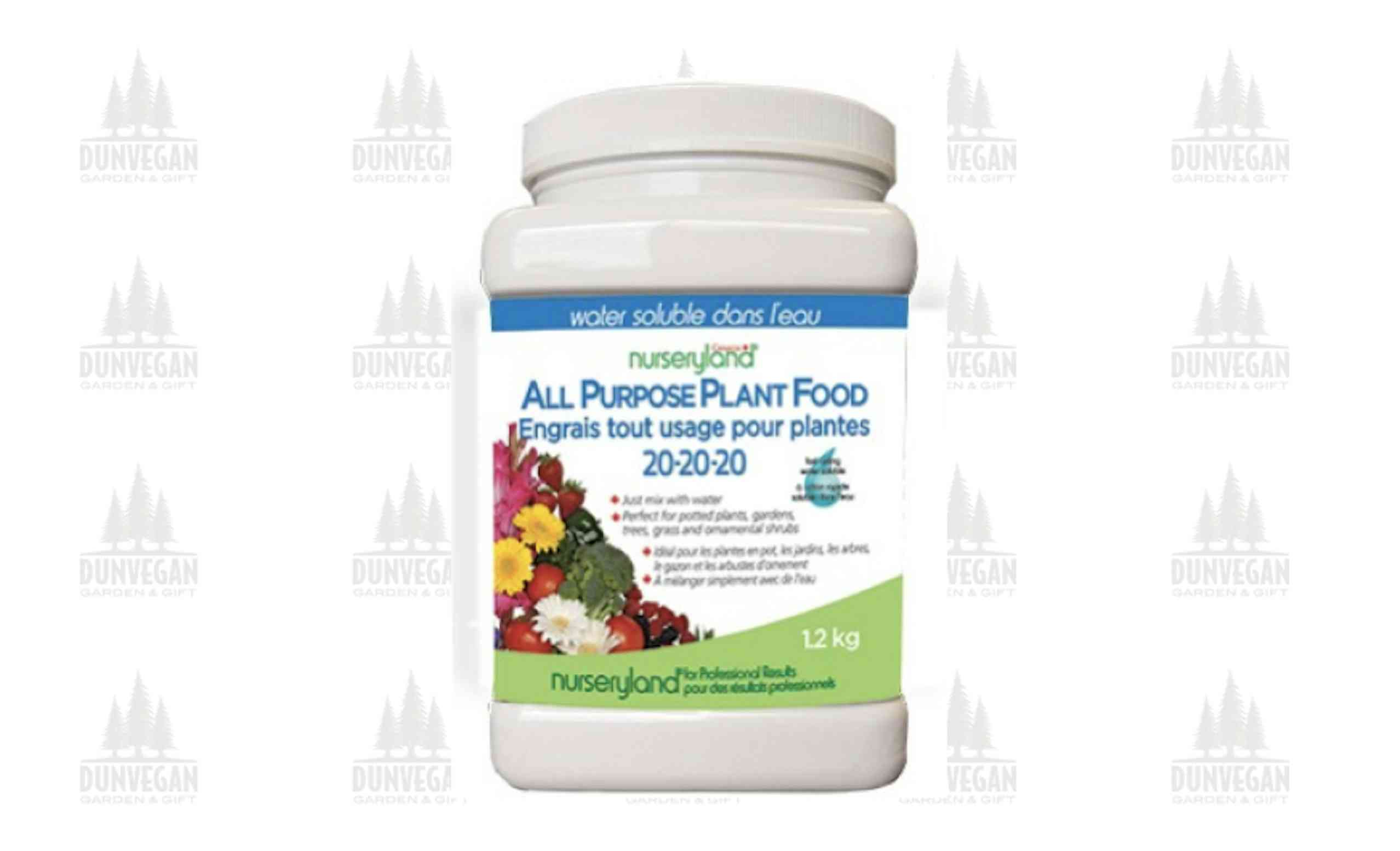 Increase blooms on flowering plants
Power Bloom 10-40-25
Want your flowering plants to really bloom? Just mix Power Bloom with water and watch the magic happen! This fast-acting water soluble fertilizer contains a powerful blend of phosphorus and potassium to increase blooms on hanging baskets, planters, and indoor flowering plants. Apply every 10-14 days for best results and prepare to be amazed at the abundance of flowers on your plants!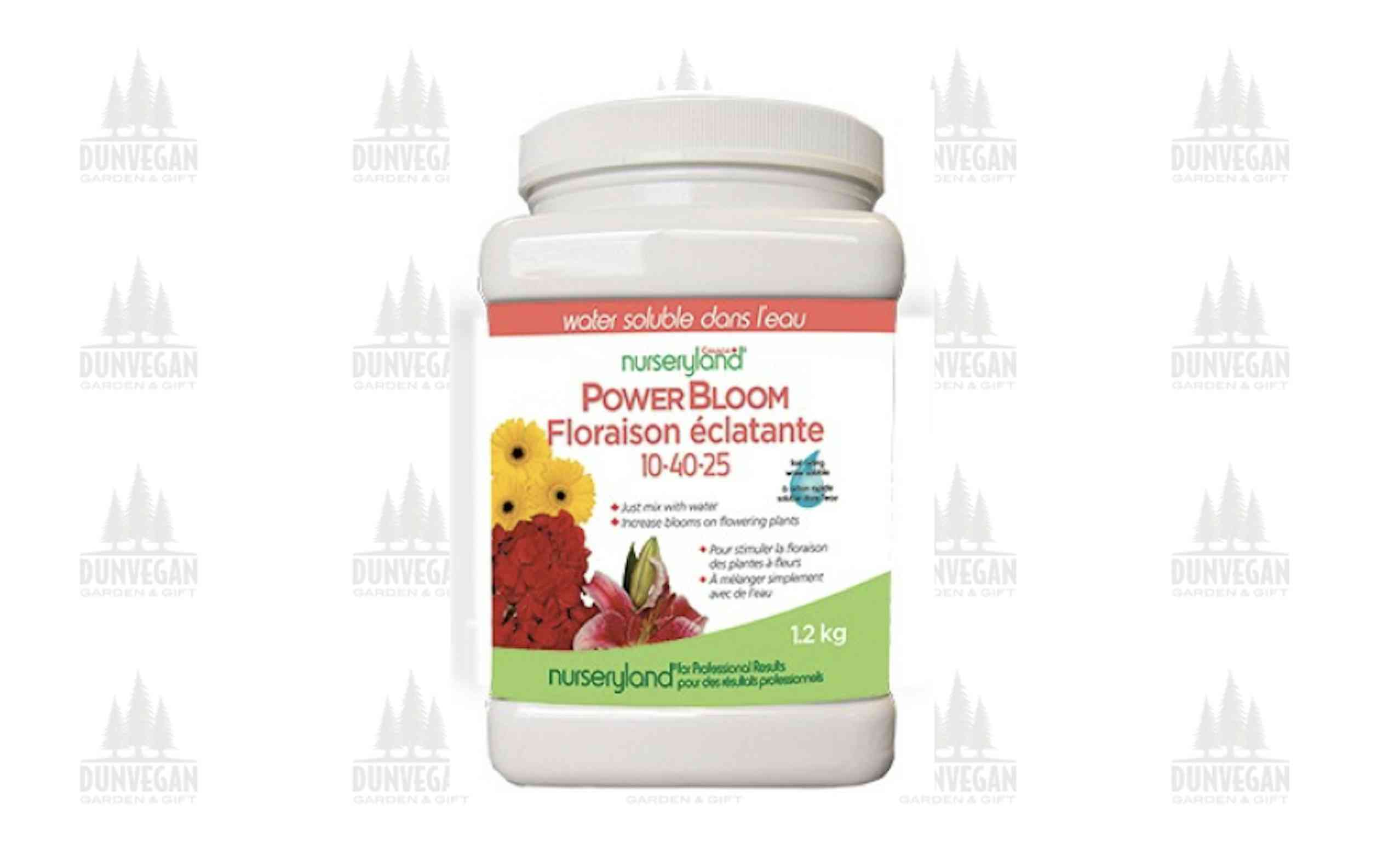 Evergreen trees that belong in a magazine
Evergreen Food 14-7-14
Achieve that stunning look for your evergreens, trees, and hedges with Nurseryland's professional quality fertilizer. This blend of essential nutrients will keep your plants fed for up to 3 months, preventing needle-scorch and leaf-burns during hot and dry conditions. Simply apply at the beginning of the growing season and reapply 1-2 times during the season depending on where you live.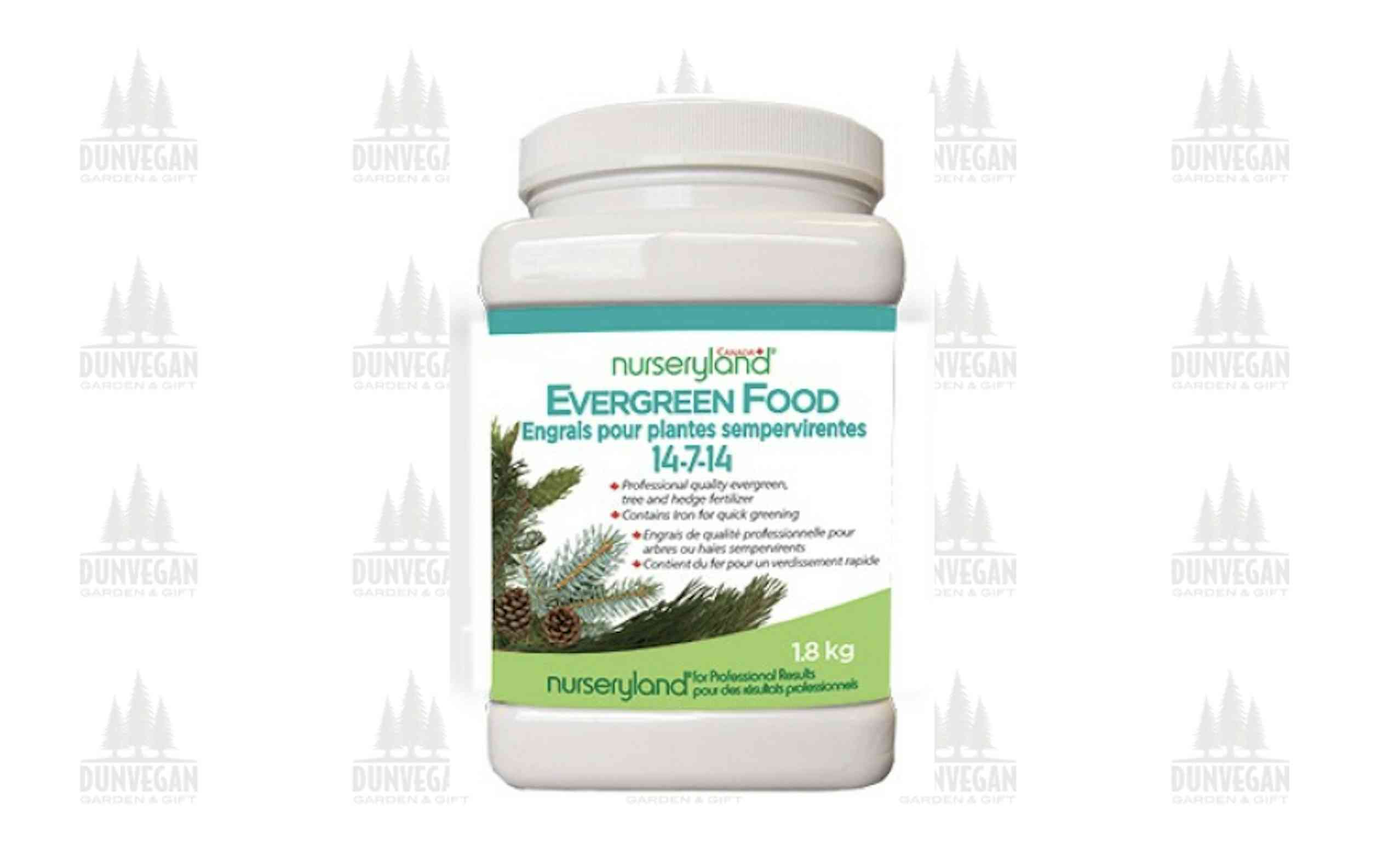 Towering cedars and lush evergreens
Evergreen and Cedar Food 30-10-10
This high-quality fertilizer is perfect for evergreens, trees, and hedges, containing 2% iron for a quick green-up. It provides your plants with the essential nutrients they need for strong and vigorous growth, and can be applied every 7-14 days during the growing season for best results. If you live in a colder region, use it from early spring to the beginning of August.